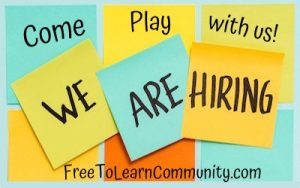 We're Hiring!
We're growing like crazy these days and we're ready for another facilitator to join us!  Spread the word that we are looking for an awesome human who is interested in self-directed education and helping us create an intentional culture with project management tools for our mixed-age kids.
Here are the details:
Free to Learn was founded upon the following principles:
Children are people;
Learning is natural and cannot be measured;
Education is most precious when the learner is inspired and interested;
A mixed-aged community promotes learning that is beneficial to all;
People learn from culture;
Personal development is encouraged through cycles of intention, creation, reflection and sharing;
A community seeking and embracing diversity facilitates a more holistic education.
Mission Statement:
We exist to serve children: we cultivate the joy and benefits of lifelong learning in a safe and positive social environment.  Our collaborative culture brings forth satisfied, successful adults from a rich and joy filled, happy childhood.
Employment Opportunity:
Free to Learn Facilitator
We are looking for an experienced and/or aspiring educator who wants to engage with young people in a way that is authentic and purposeful. Applicants should be attuned to children and teens in a way that inspires and encourages fun learning experiences. Free to Learn Facilitators are expected to model what it means to be a lifelong learner. They are simultaneously educators, members, artists, scientists, explorers, counselors, entrepreneurs, tacticians, philosophers, leaders, and service workers.
Position Title: Facilitator
Starting Pay: $11/hour
Hours Available: approx. 18 hours/week from mid-April thru mid-June, possible contract for 2017/18 educational year. Opportunity for additional hours & possible summer camp.
Possibility of Room & Board if not local
DESIRED QUALITIES
Alignment with the principles and mission of Free to Learn and the ALC Model

Understanding of progressive and alternative models of education: self-directed learning, play­ based learning, Sudbury etc.

Experience working with children & teens

Ability to keep track of several members of varying ages and developmental stages

Ability to manage large group of members

Passionate about personal skills, hobbies, and interests and willing to share with members in authentic and non-coercive ways

Experience in leadership roles

Experience working collaboratively as part of a team

Strong non-coercive conflict resolution skills

Strong communication skills

High emotional intelligence

High cultural competency

Proactive and solution oriented

Reliable and consistent

Flexible and adaptive
RESPONSIBILITIES
Support rhythms set by Lead Facilitators

Run morning and afternoon meetings

Mind daily/weekly schedules for members and community

Be attuned to what members are playing, interested in, and working on

Offer activities to extend on and further support member interests, play, and work

Offer activities based on personal interests, talents, and experiences

Engage and play with members

Intentionally take part in co-creating the community's culture

Attend staff, family, and community meetings

Communicate effectively with co-facilitators, members, and parents, as needed

Commit to engaging in crucial conversations, as needed

Commit to a self-directed process of personal development as a facilitator

Become more familiar with the Free to Learn/ALC model of education and ALC network through resources from our partners and support programs
To be considered for this position please email cover letter and resume to Emily@FreetoLearnCommunity.com and call Emily Quandt (815) 2WE-PLAY.
We can't wait to hear from you!